16 October 2020 – Since 2013, Digital Marketing Asia has been pivotal in uniting the digital marketing industry, from the most senior leaders to innovative thinkers, to celebrate, share and drive marketing innovation.
Explore ways in which you could unlock success in digital transformation, convert numbers into insights and translate insights into various digital platforms and channels. At the end of Digital Marketing Asia 2020, you will walk away with a robust understanding of the digital age of marketing.
By attending Digital Marketing Asia, you will be joining a community of trailblazers, thought leaders and industry experts pushing the bounds of marketing and technology. This event is where you can access research-backed sessions, get expert advice on specific challenges and interact with peers — all in one place.
In 2020, the summit will be happening across 3 weeks, from 10 – 26 November. We'll take you on a three weeks journey of in-depth learning into the realm of:
What's new for 2020
In this all-inclusive journey, attendees enjoy access to the pre-conference marketing odyssey from digital labs, bite-sized audio insights and forum discussions with thought leaders across the region, even before the conference starts.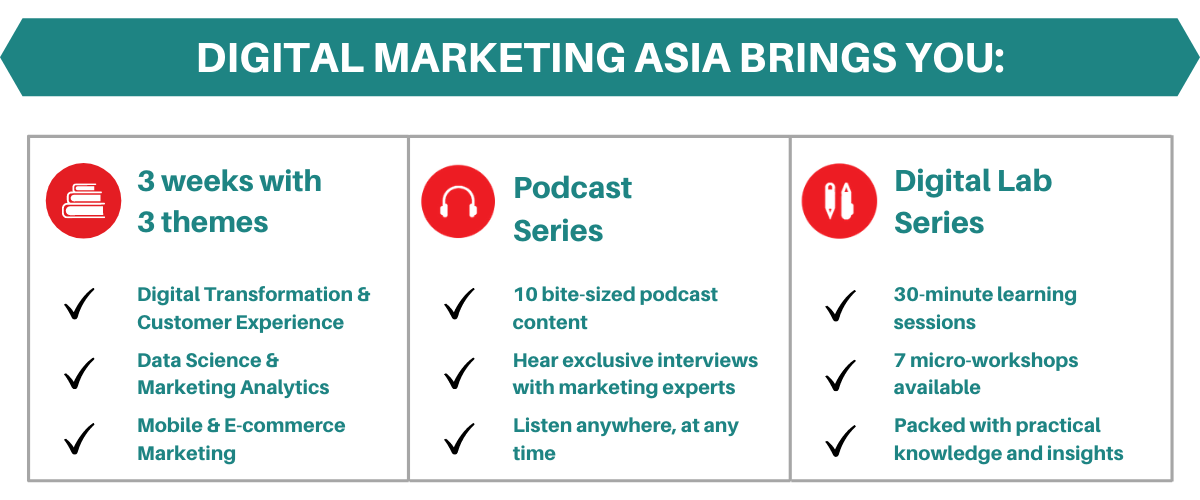 More than 1000 marketing professionals and industry experts will be present at Digital Marketing Asia 2020. Be inspired and learn from the best.
Learn from the leading line-up of speakers including Sir Martin Sorrell, Founder and Executive Chairman of S4 Capital, Founder of WPP and Mint Charoenporn Kaewmanorom, Head of Marketing Analytics and Campaign Operations from True Digital Group, Thailand. You will also learn from marketing leaders from Singapore, Malaysia, Indonesia, Hong Kong, UAE, US and more.
Members of the Thai E-Commerce Association can enjoy 10% discount on the delegate tickets with the discount code DMATHECA.
To book your e-Tickets, visit the website here: https://conferences.marketing-interactive.com/digital-marketing-asia/pricing/
You can also reach out to the team at event.registration@marketing-interactive.com.